Cartel Speedster Scion FR-S Concept
RACE INSPIRED Design in Mind.  The stunning Cartel Speedster Scion FR-S Concept which will formally debut at the 2012 Toyota Long Beach Gran Prix. The Cartel Customs Team lead by Jeremy Lookofsky (Cartel King) styled this rear wheel drive sports roadster concept with an aggressive line defined by a Toyota racing brand heritage. Working close with designer Joe Iacono of Iacono Design, Jeremy and the Drag Cartel Team show a seamless perspective integrating race and sport fabrication. 
Power comes from the Flat 2.0 Liter Boxer Engine ( 200hp @ 7,000 rpm) 6 speed transmission. The Cartel Speedster Scion FR-S concept package highlights the kickoff to the 2012 Indy race season. The Cartel Brand has been heavily involved with racing for the last 15 years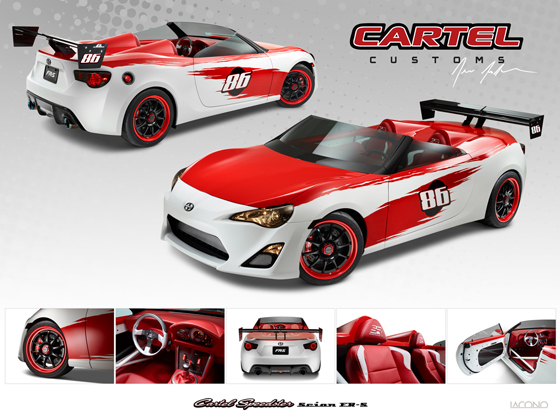 .